7 TRUE TRAVEL TIPS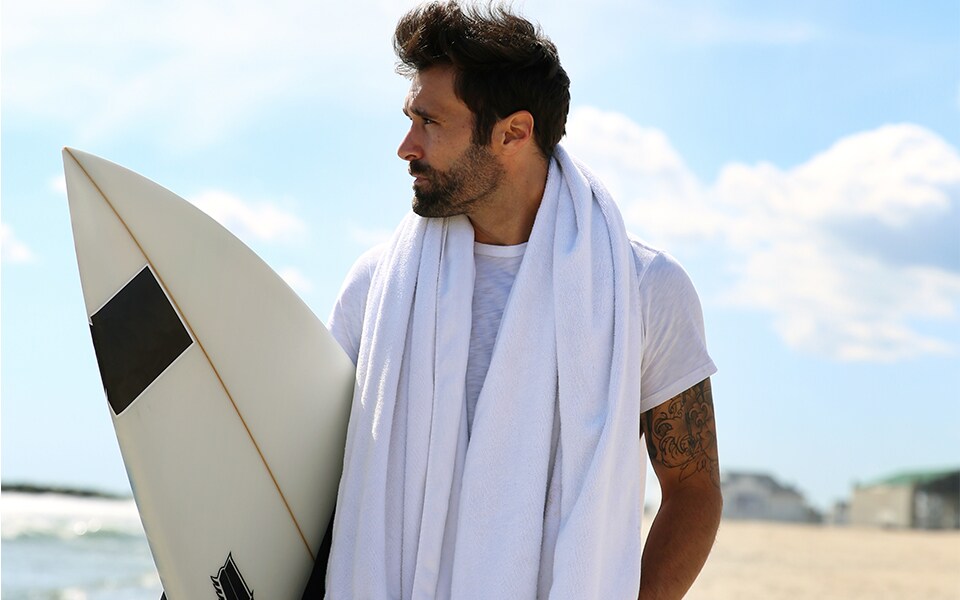 I've been traveling steadily since I was 13, when I started surfing in competitions far from home. I learned pretty quickly to always have a book and music, and to wash my hands and face more than usual. Other lessons have come with time and miles. These travel tips are tried, and they're true for me—I hope they help you have a better, more memorable summer.
Prepare for the airport (not just the plane). For me, the biggest struggle of traveling is making it through the airport. I wear things I'm not going to sweat in; and I keep an extra t-shirt in my carry-on.
Rely on versatile skincare. I like grooming products that work in all climates, fight the elements, and work for my skin. Serum and sunscreen, every day, whether I'm on a mountain or in a city.
Prepare, so you can be spontaneous. Even though I'm a planner, I never want to feel stuck with an itinerary. (My fiancé, Melissa, and I once went on a road trip—we were supposed to be gone 10 days, and we were gone for 2 ½ months.) So I pack like I'll be in a place for way longer than expected: extra grooming things and extra clothing.
Don't count on hotel minis (i.e. bring your essentials). You know what works. And sometimes you need to wash your face in an airport bathroom. For me, those things are the serum, shampoo, and exfoliating face wash.
Fly with something that keeps you grounded. I travel with a necklace that's been in my family for 6 generations. Wherever I am, however long I've been gone, it always makes me feel connected to home and to my parents.
Bring a jump rope. Great for places that don't have a gym. I started doing it when I was on tour for surfing, because it's a really good warm-up exercise; I'll use it right after I wake up.
Try to learn common phrases in the local language. The smallest effort goes a really long way. Before there were cellphones, I used to travel with one of those translation devices. "Hello," "thank you," and "whiskey" are good places to start.
Luke Ditella (@lukeditella) is a model, entrepreneur, and LAB SERIES Global Ambassador based in New York City—though he's on the road for more than half the year. The constant traveler is currently the face of FUTURE RESCUE Repair Serum.